Traction Kiting 101: First Time Out with your Four Line Traction Kite
A power / traction kite tutorial. Learn to fly!

By Angus Campbell, Coastal Wind Sports

Contents & Links...

Four line kites are fun, exciting and offer a whole new dimension over their two line siblings. However, along with the added benefits come some added complications and not everything is intuitive for the first time pilot. This tutorial is intended to help get you safely started off on the right foot while learning to fly your new investment. It is intended for first-time flyers of 4-line traction or power kites.

Safety
Like any sport, power/ traction kiting can be very dangerous and even lethal if certain basic precautions are not taken. The advice we give you here is general in nature. We cannot be with you to monitor conditions, equipment suitability and pilot skill levels, so that is completely up to you. Even when we do meet our friends and customers on the beach, the pilot holds the ultimate responsibility for their safety and the safety of those around them. Here are some important tips...
Always start in the lightest conditions that will support your kite. You will have more fun.
Never fly in strong winds until you gain the necessary experience and skills. It won't be fun, it's too much work and you can easily hurt the kite or yourself.
Never fly near power lines or near airports.
Keep clear of people while setting up and flying. Foil kites are soft and not heavy, but fly fast and can still hurt someone. Flight lines under tension can cut to the bone.
Don't fly alone, or at least file a "flight plan"; let someone know where you are going and when you should be back.
Always wear protective eyewear. A snapping line can whiplash and hit your face.
Wear gloves. The same snapping line can cut your hand, and grabbing any line under tension can cause a cut or burn to the unprotected hand. Sailing gloves are best with with their open fingertips and leather palms, or weight lifting gloves are second best.
Wear a helmet and pads if you are going to mountain-board, buggy or skud.
Avoid gusty or variable winds; the kite won't fly right anyway, it won't be fun and you could get hurt. Strong gusts can kill.
Tie up or cover long hair to keep it from tangling with equipment and flight lines.
Never fly in stormy conditions where there is risk of lightning.
Some of these suggestions overlap with other topics in this article and will be repeated, but I think the reinforcement is useful.
Choose the Day
For your first flight, make sure that the wind is not too strong for your size kite. For 2.5 to 3.5 square meter kites, the perfect breeze for your first flight will be around 8 to 12 mph and pretty steady. 3.0 to 4.0 meter kites will do well in 7 to about 10 or 11 mph without being overpowered for a novice. Smaller foils can take a little more without getting you in trouble and will likely need at least 8 mph to even fly reliably and 10-15 mph being optimal. These ranges will vary for your body weight, specific kite design and other factors, but are a good place to start.
If you fly your foil in too strong a wind for its size the first few times out, you will have a hard time, you will not have fun and you could easily get hurt and damage the kite. Kiters have even been killed by flying large kites in conditions outside of their skill levels. A smaller kite will never become dull for you or outlive it's usefulness; it will just become your 'high winds' kite as your skills improve and your kite stable grows.
A useful way to gage and describe wind speed is with the Beaufort Wind Scale. It was developed in 1805 by British Rear-Admiral Sir Francis Beaufort as a standard for estimating wind speed, not with instrumentation, but by using your own senses and observing the wind's effects on your surroundings. The scale is still used today by mariners and more recently bt kite fliers. Most kite manufacturers use the Beaufort Scale to list the suitable wind ranges for their products.
With the Beaufort Scale, our perfect learning conditions of 8-12 mph is easily described as Bft. 3, or just "force 3". Once comfortable there, you'll be able to enjoy the sweet spot of flying conditions in about Bft. 4, (about 12-18 mph). Aggressive power kiters like to put their gear to work in force 5 (19-24 mph), or maybe more, but you better have the right equipment and experience.

Things You'll Need


Here is a checklist of things you will want to bring along besides your kite, handles and lines:
Ground stake. Some kites come with them, or get it in the camping section of a department store (cheap).
Weights- bean bags, sand bags, water bottles, or other suitable weights. You will need these to hold the kite down flat on the ground prior to launch if you are not on a beach where you can use sand.
Sunscreen- at least for your face, as you will be staring into the sky a lot.
Sun Glasses. As much for physical protection of the eyes as it is for the sun itself.
Gloves. To protect your hands if you have to grab a kite line under tension (which can cut). Sailing gloves from the local marine store, or weight lifting gloves are best because the finger tips are open, allowing you to handle small items easily.
Wind direction indicator. As simple as a stick in the ground with a ribbon tied on top or as fancy as nice wind sock.
Anemometer (wind speed gage). This is optional. Soon you will learn to read the wind with your senses, but a simple wind gage is handy to start with.
The right shoes. There is a chance you will be dragged on your feet. Not a good day for flip-flops. Wear something that will slip a bit on the surface you will be standing on. Sliding on your feet or "skudding" is a useful way to absorb excess energy and is more fun than running. I like boat shoes.
Water (for drinking). You'll be in the sun most likely and getting more exercise that you would have thought.
First aid kit. For cuts and scrapes. You could get a scrape or two if (when) you get dragged. If a line snaps under load, it can whiplash and cause lacerations.
A handy bag to carry all this stuff in!
Choose the Site


If you are flying in a field make sure you have enough room to be downwind of any tree lines or buildings so that you are out of the turbulence they cause. You want smooth air to fly your kite in. A good rule of thumb is to be downwind by a distance of 3-4 times the height of the obstacles, but you might need more room. And for heaven's sake make sure you are no where near any power lines and are clear of any airport flight paths!

If you are heading to the beach, think about going online or look in the newspaper to check the tide tables for low tide times. On many beaches, low tide is the only time there is enough room to avoid other people or dunes and vegetation. Also learn to check the wind direction. It won't matter as much while you learn (as long as you have room), but if you want to work towards kite buggying or kite-boarding, you will want to look for an on-shore breeze roughly 90 degrees to the beach.

When you get to your site, think about where you are going to stand and take into consideration the lengths of your lines. Stand with your back to the wind and visualize a semi-circle with a radius the length of your lines and extending from off your left shoulder around to your right. Make sure that the area is clear of obstacles that could snag and rip the kite, and clear of where bystanders could walk by. Kites are soft and not heavy, but when flying fast they can pack a wallop and really hurt someone. And worse, kite lines under tension can cut to the bone!

Setting Up
When you figure out where you are going to stand and fly from, lay your stake on the ground as a marker. You won't need it stuck into the ground until you land the kite, so leave it loose so you do not trip over it or worse, fall onto it. Now take your kite, lines, handles and weights and walk down wind a distance a little more than the lengths of your lines. The first time out, you will have to guess the distance, but you will soon learn to count the paces for your stride and be within a foot or two of your line length. Thirty four paces works for me with a 25 meter line set.

With your back to the wind, un-fold the kite on the ground with the trailing edge nearest you and the leading edge with the air inlets farthest away (downwind). As you unfold the kite, use the weights to hold down the trailing edge of the kite and keep the kite from blowing away. If you are alone with no helper, then they are an absolute must. There is a different way to set up the kite for launching in higher winds, but we are assuming that for your first flight you have chosen light to moderate winds and will cover the other methods in the next article.

If you are on the beach, you can use sand in lieu of weights by scooping it over the trailing edge of the kite. A handy way to do this is to use your heel to dig a trench as long as the kite span and an inch or two deep, perpendicular to the wind. Then starting at the center of the trench, unfold your kite from the center to a wing tip and place the trailing edge in the trench as you go, covering it with the loose sand you kicked up. Then go back to the center and do the other half. If the beach has fine sand that just blows all over the place, move closer to the high-tide mark or even closer to the water until you find moist sand that clumps and stays in place instead of blowing away. You don't need to pile a lot of sand on the kite; use just enough to cover the trailing edge to keep the wind from getting under it. The kite will stay in palce while you finish setting up and the sand will fall off when you launch. If you can't use sand, don't use rocks or anything else that is abrasive to the fabric, and be sure that whatever your use cannot snag a bridle line. We've even used old in-line skating wheels, since they are soft enough and round so they roll off on launch without snagging. Common plastic drinking water bottles (filled) are good for this reason, too.

Attaching the Lines
If your kite came without the lines attached, we obviously have to do so now. They will likely be wound all four together on the winding card in pairs and each pair will be of a different weight or diameter. The heavier ones are the power lines and they attach to the main bridles leading from the front of the kite. Kiters follow the nautical convention of red is left and green is right, so if the lines are of different colors and one of them is red, make it the left line. Likewise if one of them is green (more often blue), make it the right line. Same goes with the handles, if they are marked with separate colors. Often the brake lines are of the same color, but the sleeves around the end loops are color coded.

It is worth acknowledging here that a lot of fliers come to power kiting from the 2-line stunt world where the habit for rigging lines is "red on right". We have seen it in some kitesurfing schools, too. Fundamentally there is nothing wrong with this if it works for you, but if you share your kite with a buddy who follows the nautical tradition as most power kiters do, they are likely to get confused and possibly crash your kite. It's also worth noting that more and more manufacturers are labeling their gear and lines with "L" on the red and "R" on the blue handles. On the new Peter Lynn control bars for de-power kites, if you put the bar down with red on the right, you are faced with a big warning label reading "WRONG WAY".

Some of the older Ozone and plain HQ line sets are marked with both main or power lines one color and the brake lines both of another, leaving you to keep track of right and left. Recently Ozone started to number the lines with little printed fabric tabs at the end, and they match up with numbered handle leads and bridle toggles at the kite. They are numbered left to right, 1 to 4, left main, left brake, right brake, right main. Really fool-proof. HQ and Peter Lynn have followed suite and number their gear in a simailar fashion.

Most kites suitable for beginners will come with proper line sets of the right strength and length for the kite. Some will even come attached and ready to unwind and fly. If you are supplying your own line set for some reason, make sure it is the right one according to the manufacturer's recommendation. After the first time your kite fully powers up, you will have a full appreciation for what could happen if an undersized line broke. If your line is too strong, then you will be carrying around more weight than you need and just hurting performance.

Before attaching the lines, make sure the bridle lines on the kite are sorted out and not stuck together. When you first unfold the kite, you may be shocked to see what looks like a horrible, tangled mess. Don't panic. The bridle toggles, the ends where you attach the flight lines, will normally come attached to a small pig-tail at the trailing edge of the kite, a small Velcro strap, or in some cases to each other. This will keep them from intertwining and tangling, but because they are new, stiff and maybe even a bit sticky from sizing or other coatings, they may just be a bit stuck together and appear tangled. Disconnect the toggles from their storage straps (or from each other) and, being careful to keep them separate, gently pull the bridles apart.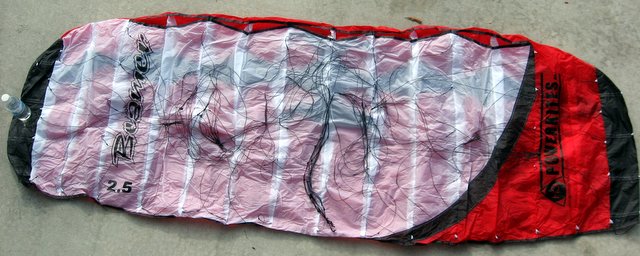 Figure 1a. It's not as bad as it looks. Because the bridles have been tied off to the kite's trialing edge, they are not tangled and will easily pull apart when you lay them out. Note the use of a water bottle on the left as a handy weight to hold the kite down in a breeze.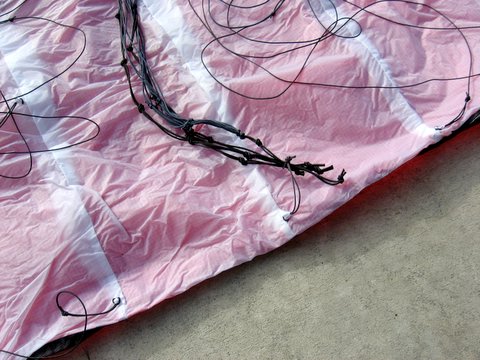 Figure 1b. Figure 1b. Detail of bridle ends tied off to a small loop on the kite's trailing edge in order to prevent tangling. Some kites have Velcro "crock clips" for the same purpose.
In all but some smaller kites, the primary bridle lines - the ones attached directly to the kite - will be connected in turn to secondary bridles, which then attach to the power lines. Make sure the primaries lead smoothly and in order to the secondaries without any crossed lines or twists. Lay them out away from the kite upwind and parallel to the kite. Some kite's bridles will want to lay on the ground with the brake bridles on the outside and the mains on the inside, but if they are numbered like some new kites are, the mains will be #1 (left) and #4 (right), so you may as well lay everthing out in order left to right with the brake lines in the midle (#2 and #3).
Now unwind the lines and lay them out on the ground stretched out up-wind, starting adjacent to each of the bridle attachment points and ending near the ground stake. Again, if they are numbered, lay them out 1 to 4, left to right. We will attach the lines to the handles first.
First, let's get the handles ready to recieve the lines and kite killers. With the kite killers attached to your wrists, when you let go of the handles, the kite will flip over on its back, lose power and fall harmlessly to the ground. For your first flights you should not be flying in conditions where you need this feature for your personal safety, but they are useful if you accidentally let go of the handles, as you won't lose the kite or have a bystander be hurt by the flying handles or a wrapped line.
To get the handles ready for the kite killers, we recommend tying a second overhand knot an inch or so from the knots at the end of each handle leader, per figure 2a, and you'll see why in a minute. We really need it on the brake (bottom) leader, but because an overhand knot will shorten the leader, we'll add another matching knot to the top leader to even things up. It's OK if the leaders are a bit shorter, but it's important that they are the same length. We know that an overhand knot will weaken a line by about 50%, but the leaders are oversized to be easier to handle so we are still OK. If your leaders are thin and spindly (not common these days), you can use a figure-of-eight to make a bulkier knot. See figure 2f to compare the two knots.
Now let's attach the kite killers. At the loop at the opposite end of the leash from the wrist straps, take the loop of a lark's head knot per the photos 2b through 2d and thread the end of the brake line pigtail through the loop. When you are done, the kite killer leashes will be knotted around the brake line leaders between the two knots with a bit of room left behind the end knot for the brake lines as in figure 2d.
| | |
| --- | --- |
| | |
| Figure 2a. Here we have added the 2nd overhand knot about an inch behind the knot at the end of both top and bottom leaders. | Figure 2b. Fold the standing part of the leash line (my left hand) back and feed it through the loop at the end. This loop is formed of sewn bungee cord. Some may be sewn up line or flat nylon webbing. |
| | |
| Figure 2c. Pull the bottom part of the loop (held by my right thumb) through so it turns inside out and forms a loop ready to receive the brake line pigtail from the handle. | Figure 2d. Here is the completed loop, forming a slip noose that can be pulled tight around the leader. |
| | |
| Figure 2e. Put the brake leader through the loop and cinch the loop tight between the knots, leaving some space in front for the brake line. | Figure 2f.Here is a figure of eight stopper knot on the right, compared to a simple overhand knot on the left. The figure-eight knot is bulkier and does not weaken the line as much. They are left loose so you can better see how they are formed. |
Now let's attach the brake lines. See figure 3 and note that we are working with the right handle (blue). A lot of line sets use blue lines or blue loops for the right, but this set uses green (the left is still red). We will attach with a larkshead knot like we did with the leashes, but because the loop is bigger and the line is lighter we can use our fingers differently. Looking at figure 3a, put your thumb and forefinger through the loop and open it up whild holding the standing part of the line in the other hand. In figure 3b we flip the loop over and pinch the standing line and pull it through the loop to form the slip noose as in figure 3c. Then we put the loop over the end of the brake leader and snug it up between the end knot and the leash with a good pull to make it tight.
| | |
| --- | --- |
| | |
| Figure 3a. Here we put our thumb and forefinger in the end of the loop to open it up. | Figure 2b. Flip the loop over and pinch the line with your fingers and pull it through the loop. |
| | |
| Figure 2c. Pull the line through the loop so it forms a slip noose ready to receive the brake line leader. | Figure 2d. Put the end of the leader through the loop and pull the loop tight, cinching it beween the end knot and the leash knot. |