Kite buggy rally and fun-fly. May 14-18, 2018-, Jekyll Island, Georgia
Contents & Links...
| | |
| --- | --- |
| | |
| Kite Beach, Jekyll Island, Georgia | Cooling off in a tidal pool. They are always deeper than you think. Photo: Mel George |
| | |
What, When & Where
The JIBE is Jekyll Island's first, and the Southeastern US's only annual kite buggy rally. It is planned as a loosely organized, informal get-together for kite-buggy pilots, but ATB/ landboarders, Blokarts and all traction and power kite fliers are welcome. JIBE is now a NAPKA sanctioned event, meaning that there is no longer the need to register or pay for registration fees. Just join NAPKA for $40 and you can not only attend JIBE but any other sanctioned event in North America.

For 2018 We will remain to a weekday format in order to enjoy the event with fewer other people on the beach. This worked well the last two years. Jekyll beach is never crowded anyway and this is still pre-season, so we will have a better shot at extended distance runs. In previous years, some of our best days were on weekdays with clear beaches allowing four-mile-plus runs. Most of the pictures here depict typical weekday beach scenes during JIBE. This format will also better suit our guests that stay in weekly vacation rentals on the island that usually run Sunday through Saturday.

Dates
Monday, May 14th, 11:00 am, through end of day Friday the 18th.

Location


Jekyll Island is located on the southeast coastline of Georgia, about halfway between Savannah and Jacksonville, Florida (about 30 miles north of the Florida Border). It's an easy 15 minute drive from Exit 29 on I-95 (see "Getting There", below)

The event staging area will be located on a stretch of beach we have come to call "Kite Beach", located in front of the restaurant which is now Tortuga Jack's and formally "Fins on the Beach" or "Blackbeard's", just a half-mile north of the main island entry point. This stretch of beach is favored by power kiters and kitesurfers since it offers a wide area at low tide and is relatively crowd-free. When the few crowds do clear in the late afternoons, a 4+ mile stretch is available for buggy runs with the right winds (east to southeast is best, west winds are second best). For 2018, there will again be some restrictions as to how far south we can travel (southern water tower) in order to keep clear of established wildlife habitats.

Jekyll Island is a unique venue. From the 1860's through the first part of the twentieth century, the island was the home of the Jekyll Island Club, owned by America's elite and wealthy industrialists, including names like Astor, Rockefeller and Carnegie. In 1947 it was turned into a state park and to this day, development remains highly restricted, leaving over half of its area and all the beaches as a public wildlife preserve. The Island is home to all kinds of wildlife including alligators and American Bald Eagles.

The island is also a nesting ground for Loggerhead and other species of sea turtles, whose lives, health and nesting areas are now under the care and study of the new Georgia Sea Turtle Center located on the island. The Center is unique and includes medical and rehabilitation facilities as well as a public education program. Admission is $10 for adults (less for senior and kids). It's a favorite among JIBE attendees and their families.

Our good friend and frequent JIBE attendee Todd Stevick has produced some great vids of the event...

Bangarang! from Todd Stevick on Vimeo.

Rope ~ Jekyll Island Buggy Expo from Todd Stevick on Vimeo.

I have a JIBE Guide PDF that you can download. It has directions, maps, checklist, schedule, etc.

Monday, May 14th
Low tide: 2:23 pm, -0.48', Sundown: 8:14 pm


11:00 am - 1:00 pm
Event Registration and welcome 11:00 am - 7:00 pm...
Fun-fly and buggy on the beach
4:30 pm - 7:00 pm
Extended runs down the beach after "crowds" clear.
Tuesday, May 15th
Low tide: 3:11 pm, -0.68', Sundown: 8:14 pm

11:00 am - 7:00 pm...
Fun-fly and buggy on the beach
4:30 pm - 7:00 pm
Extended runs down the beach after "crowds" clear.
Wednesday, May 16th
Low tide: 3:59 pm, -0.76, Sundown: 8:15 pm

11:00 am 7:00 pm
Fun-fly and buggy on beach
4:30 pm - 7:00 pm
Extended runs down the beach. Where else can you chase and buzz the State Police truck without getting a ticket?
Thursday, May 17th
Low tide: 4:48 pm, -0.70', Sundown: 8:16 pm

11:00 am - 7:00 pm
Fun-Fly and buggy on Beach
Friday, May 18th
Low tide: 5:40 pm, -0.51', Sundown: 8:16 pm,

11:00 am - 7:00 pm
Fun-Fly and buggy on Beach
NOTE: There will be no buggying after dusk at this event due to the possibility of hatchling sea turtles making their way from nests in the dunes to the water.
NAPKA membership will be required for all who buggy on the beach, including land boards/ ATB's & Blokarts (most welcome). Membership is NOT required for spectators, non-kiting family members or those flying any other kites on thier feet (stunt, single-line, etc.). Registration is also NOT required for those riding as passengers in a tandem buggy.
I have a JIBE Guide PDF that you can download. It has directions, maps, checklist, schedule, etc..
The Georgia Sea Turtle Center tour will be an optional item to do on you own during the week. There will be no formal group tour this year, since many return guests will have seen it. It's still recommended though, as it can be different every time with new in-patient turtles, new science and new stories.

NOTE: There is a $6 per day parking fee collected at the visitor plaza on the causeway. If you are staying for 4-5 days or more, buy the $28 weekly pass for your convenience (and savings). This gets you lots of convenient parking, clean restrooms and open-air showers. If you think you will be making return trips to Jekyll, the $45 annual pass RFI tag is a real bargain and very convenient NOTE: There is now a $13 surcharge for first time annual passes. This pays for a radio frequency tag on your windshield that lets you drive through any lane at the gates. The old bar-code decals are gone. If you are replacing an old bar-code decal, there will be the $13 one-time fee to upgrade to the new radio sticker.
| | |
| --- | --- |
| | |
| Rider Chris Rieke catches a lot of flies in his mouth because he cannot wipe the wide grin off his face while riding the coastal winds of Jekyll Island. | Team Rider Chad Golden stacked two Peter Lynn Venom kites one year at JIBE and had a real handfull. Great to see so much ripstop Nylon in the sky at once, though! |
For buggies, standard 4" wide tires are fine on the hard-pack sand. Wider tires just offer more versatility and are easier to get through the soft sand to the beach.
Tow leash/ rope for the buggy; useful for letting the buggy down the beach stairs backwards.
Kites for all possible wind ranges, if you can.
Helmets are required by insurance and are a good idea. The hard-pack is like concrete.
Sunscreen and lip balm with SPF. The sun is bright and the sand reflects it.
We will have water and ice, but bring any favorite sports drinks.
Alcohol is OK on the beach (no glass!), but watch out for dehydration.
Spare fast-drying clothes and towels. You may get wet splashing through tide pools and surf.
Dogs are welcome on the beach. Leash laws are in effect May-Sept, but well minding loose dogs are tolerated by most.
Snacks. There is a basic market in the new retail village and a convenience store near the island entrance, but for more extensive provisioning, shop on the mainland and call us for locations.
Getting There
How do we get to Jekyll Island?
It's easy. You will need a car, as there is no local public transportation. Just take I-95 to exit 29 or 38 in Brunswick, Georgia. Jekyll Island about is 15 or 20 minutes from either one. (Exit numbers in Georgia are referenced by their mileage from the Florida border). Brunswick is a little over an hour south of Savannah and about an hour north of Jacksonville.
Flying
The Brunswick / Golden Isles Region is convenient to three airports:
Brunswick Golden Isles Airport. Served by two or three flights a day from Atlanta by Atlanic Southeast Airlines with Delta connections. Major car rentals available. Located near I-95 exit 38.
Jacksonville International Airport (JAX). Served by most major and regional airlines. All major car rentals available. Just 45 minutes to exit 29 and another 15 minutes to Jekyll Island. Southwest Airlines (always easy on baggage charges) serves JAX, too.
Savannah Hilton Head International Airport. Served by most major and regional airlines. All major car rentals available. Just over an hour's drive to Jekyll Island.
Driving
from Florida and points south.
Take I-95 north to exit 29
At the exit 29 ramp, turn right to go east/north on US Rt. 17/ GA 25 for about 5 miles (If you need to shop for provisions, a Winn Dixie Supermarket is to the left 1/2 mile west). Get cheap gas just to the west of the exit if you are low, as gas is more expensive at Jekyll Island's single gas station.
Turn right on to the Jekyll Island Causeway. The causeway is well marked and is right before the large Sidney Lanier suspension bridge.
Take the causeway another 6 miles and cross the bridge over the Intracoastal Waterway to the Island. Purchase your parking pass ($6.00 per day or $28 per week) at the collection station located near the Vistor's Center 4 miles out on the causeway.
From Savannah and points north
Take I-95 south to Exit 38.
At the end of the ramp turn left onto the 25 Spur/ Golden Isles Parkway, south.
After 4 1/4 miles, the Spur merges into US Rt. 17/ GA 25 south/ Glynn Ave.
Go about 6 miles, passing over the Sidney Lanier suspension bridge. Get gas along here if you are low, as it is more expensive on Jekyll Island. If you need to shop for provisions, there is a Winn Dixie supermarket on the right, just after you pass the causeway to St. Simons Island.
At the base of the other side of the bridge, turn left onto the Jekyll Island Causeway.
Take the causeway another 6 miles and cross the bridge over the Intracoastal Waterway to the Island. Purchase your parking pass ($6.00 per day or $28 per week) at the collection station located near the Vistor's Center 4 miles out on the causeway.
Once on the island, you will find ample beach parking, clean public restrooms, water, water fountains for people AND dogs, outdoor showers and easy beach access.
| | |
| --- | --- |
| | |
| The Cuaseway to Jekyll Island is easy to spot off of Route 17 / 25. | From here it is 6 miles over the salt marshes to Jekyll Island. |
| | |
| The striking Sidney Lanier Bridge on Route 17 / 25, next to the Jekyll Island Causeway entrance. | The plaza for island parking passes located 4 miles out on the causeway at the Visitor Center. Any lane accepts cash, credit or debit (faster than cash) or annual passes in the form of RFI (radio) tags. |
The new retail village next to the convention center is now open. See the map below. Navigate the roundabout exiting to the north (towards your left up the beach) then go about 1/2 mile and you will see Tortuga Jacks restaurant on the right, with a parking lot overlooking the beach. Pull in there and you will see the ramp with stairs going down to the beach. If you have a big, heavy buggy you may want to use the ramp to the beach at Great Dunes Park. It is just 800 feet south of the JIBE staging area in the Great Dunes Park.
The ramp to the beach is about 6' wide. It has stairs, about twenty steps, going down to the beach. It is easy to get a light or moderate weight buggy down by putting a tow leash on the foot pegs and letting the buggy down backwards. I did this all the time with my 75 lb Bigfoot loaded with gear. Going up is not as bad as it sounds. There is also a wider handicap ramp at the new Great Dunes Park 800' to the south.
| | |
| --- | --- |
| | |
| Bring a rope leash to lower your buggy down the stairs backwards. It's easier than you'd think, even with smaller 16" wheels. | Getting your buggy up the stairs is not as hard as it looks, even with lots of gear in it. Turn the front wheel to the side, rest it on your thigh, and go up one step at a time. This way the weight and strain is on your legs and not your back. It works with 16" wheels just as well, too. |
| | |
| The Great Dunes Park and deck pavilion, immediately to the south of the restaurant parking lot. It features outdoor showers and bathrooms with private changing rooms. The wheelchair ramp up to the deck is narrow for a lot of bugs, so you will have drag big buggies up the three or four steps to get access to the ramp to the beach. | The handicap ramp on the beach side of the pavilion is 7 1/2' wide, plenty for even the big buggies. The ramp is about 800' south of the Jibe staging area. |
There are public restrooms in the lot just to the south, in the Great Dunes Park, and they feature private changing rooms and outdoor showers nearby.
"Kite Beach" is the 1/4 mile stretch of beach from the access stairs up to the Jekyll Island Club Pavilion, the next building up the beach. Because it is between public access ramps, it is not crowded with a lot of sunbathers. There is a sand bar here at low tide that makes it an ideal spot for kiteboarders and kitesurfers, too.
| | |
| --- | --- |
| Jekyll Island & major landmarks. The heavy beige line represents beach sections accessable for buggy runs, about 4 miles. From Kite Beach it is 2 miles down to the southern water tower. The area south of the southern water tower is now off limits to buggies and other wind-powered vehicles due to sensitive nesting and wildlife habitats on the south end of the island. Going north from kite Beach and the sand bar, you can go about 2 miles before you run out of room as the beach narrows (low tide only for the north end). | |
Wind & Weather
Perfect winds for Jekyll Island buggying is east-southeast, with anything a few degrees off one way or another still just fine. The beach runs south-southwest to north-northeast. Right at Kite Beach, there is a bend in the beach right at the sand bar that favors a northeast component to the north, and a southeast component to the south.
Anything can happen, but unless we are influenced by a major frontal system, we can expect good buggy weather for early May. This time of the year, we are under the influence of the default patterns that put a high pressure system off the Carolinas with the clockwise rotation bringing northeast or east-southeast winds onto the South Georgia and North Florida shores. It is normally warm enough that the sea-breaze effect kicks in as the island heats up in the afternoon, drawing the wind right off the water for a decent on-shore breeze. If we do not get the sea-breeze, and end up with northeast or east winds, the we can still work extended runs but with up-wind slogs in one direction and fast deep broad reaches the other way.
If we do get a frontal system moving in from the west, all is not lost, but we might end up with lumpy west winds coming over land.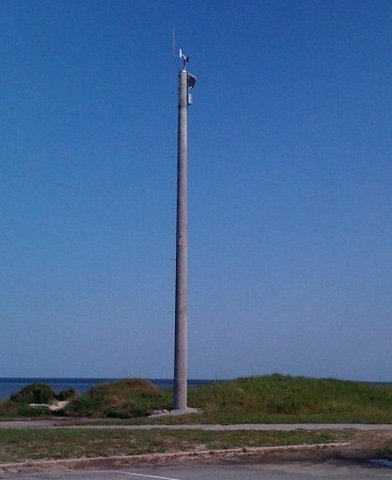 The WeatherFlow station near the southeast corner of the parking lot overlooking Kite Beach provides near real-time wind data and is accessible on iKiteSurf.com.

Wind velocity is normally forecast at 10-15 knots, but 7-12 is almost as common, with 15+ less common but often enough for the kiteboarders to get excited. Mornings can start with light winds, building in the afternoon, usually. For this week, low tide and maximum buggy space is in the afternoon. We now have a WeatherFlow station installed right over the dunes at Kite Beach, providing wind data in near real time. You can access it at iKiteSurf.com.

Temperatures in the Georgia summer can be hot and humid, but early May tends to keep the edge off, with average temperature ranges listed as 67-81 F, rather than the 90's or higher that can prevail in July and August.

Of course, there is no guarantee!

Things to do for the Whole Family
The "Golden Isles" region of Brunswick, Jekyll, and St. Simons Islands has much to offer for any family members not into kite flying. Some possibilities are...

Accommodations
There are several options for lodging and there are numerous options for dining.
On Jekyll Island: Look here for a current directory of island hotels.Room rates for May on the island start at just over $100 plus tax for basic rooms with breakfast and WiFi. There is also camping available.The campground has full facilities for tents and RV's, showers, laundry, general store and WiFi. Campers tell us that the place is clean, neat and quiet. Camping is not allowed anywhere else on the island and overnight parking in public lots is prohibited without a permit from the campgrounds. NOTE: Make reservations for camping well ahead of time as it books up fast! Here are some places to eat.
Brunswick area, mainland: For very affordable accomodations, we have many of the brand name budget and travel motels clustered around I-95.
In addition to numerous fast food joints and diners, we have Zachry's Seafood and Steak House near exit 29. Highly recommended with decent food and resaonable prices. Also new recently is Bubba JAX Crab Shack , also near exit 29 and next to McDonalds. We like it a lot. Steaks and burgers are good if you can't eat seafood.
We have added a map and guide for services in the Exit 29 neighborhood here.

Contact: Angus Campbell, Coastal Wind Sports.
912-577-3920
angus at coastalwindsports.com
Last updated 6/1/2018
Copyright 2008, 2009, 2010, 2011, 2012, 2013, 2014, 2015, 2016, 2017 Angus Campbell.